Have you thought about replacing your old, traditional water heater? You should consider a tankless water heater instead.
Did you know that a high-efficiency Navien tankless water heater could save you tons of money every year?
Well, it can.
Navien tankless water heaters provide great value for homes, from their quick recovery rate and lower energy consumption to their ease of installation and maintenance.
Let's explore the reasons why you should consider replacing your traditional water heater with a Navien tankless water heater!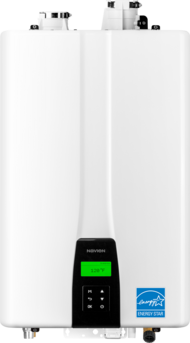 What is a tankless water heater?
Simply put, a tankless water heater doesn't have a tank. So how does it heat water?
On demand!
When you need hot water, for a shower or for cleaning dishes, for example, cold water is pulled into the Navien system. Once inside the water heater, the previously cold water is heated immediately and delivered to the specific area of need.
A traditional home water heater keeps hot water in a tank at all times, whether you use it or not. If you don't use any of this precious hot water, it eventually cools off and has to be reheated again before it can be used.
If your existing water heater is 15 years old or older, it may be time to replace it.
The best time to replace a traditional home water heater is when it is unable to consistently provide hot water when you need it. For most traditional tanks, the timeline maxes out around 15 years (sometimes less!).
A Navien tankless water heater will save you money.
When you heat and reheat the same water repeatedly with a traditional storage tank heater, you end up paying for it. With a tankless water heater, you pay only for the water that gets used in your day-to-day.
The cost of installation can also be money-saving. A Navien tankless water heater is cost-effective to install. A traditional tank-style water heater can take several hours to install, and those hours are tallied up in your total labor costs.
Navien tankless water heaters help save our environment.
Navien tankless water heaters produce some of the most environmentally-friendly hot water. Instead of using energy to reheat water when it isn't needed, a Navien tankless heater only uses energy to heat the water you need.
With Navien tankless water heater, there is no standby heat loss because heated water flows through as needed. This means it's more energy efficient than traditional systems and helps reduce energy bills by more than 30 percent.
What does it take to install a Navien tankless water heater?
Navien tankless water heaters are available in both gas and electric models. The gas version requires a condensing vent; the electric model does not. You will also need a cold-water inlet, a hot-water outlet, and a drain for condensate. If you already have these installed for your old unit, then you're good to go.
There are other options that you can consider as well. If you want the ability to use hot water from more than one location at once, then it may be worth installing an additional recirculation pump for faster delivery. Also consider an expansion tank if you have a closed system or if your home has copper pipes.
You can install many of these components yourself if you're handy with tools, but this type of work is best left to professionals if you don't understand what you're doing. Make sure that the contractor is licensed.
Speaking of licensed plumbers, our team at Top Notch Plumbing is licensed and certified to install and service water heaters. Plus, we're a preferred installer for Navien tankless water heaters.
Schedule Your Navien Tankless Water Heater Installation Today!
Replacing your existing water heater with a high-efficiency Navien tankless unit will provide a lifetime of comfort and savings. Call today to schedule an installation or reach out to get your questions answered by our friendly team.